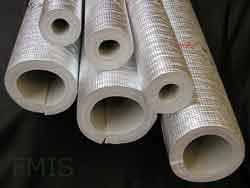 Applications
Polyethylene has come to the fore in recent years as a popular material in many insulation applications, particularly in chilled and hot water applications as well as in air conditioning systems.
The major use of chemically cross linked Polyethylene is in the insulation of chilled & hot water piping & equipment where it's superior insulating properties offer distinct advantages over the fibreglass, nitrile rubber and polystyrene products, which have generally been used in these applications
Forms available
Therm-o-lag foil faced chemically cross linked Polyethylene insulation is supplied in convenient preformed pipe section in 2M long lengths an in rolls 1M wide and a thickness of 10, 25, 38 or 50 mm.
Temperature range
Therm-o-lag chemically cross linked Polyethylene insulation is suitable for insulating pipes & equipment operating within the temperature range of -70℃ to +95℃.