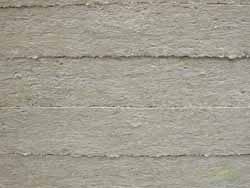 Rockwool has excellent thermal properties as well as providing exceptional acoustic and fire resistant properties. It is an ideal material for insulating pipes, plant and equipment operating at temperatures up to 750℃.
Forms available
Rockwool is supplied in semi rigid & rigid batts, flexible blankets/mats, and pre-formed pipe sections in densities ranging from 60 to 150kg/M3.
Products are available in plain unfaced finish, and with a range of factory applied facings, most commonly foil laminates and, in the case of blankets/mats, a chicken wire overlay in stainless steel or galvanised wire stitch fixed to the blanket/mat.
Fire rated rockwool for various applications is also available. We keep in stock fire rated party wall batt & fire damper strip. Other fire rated rockwool products are sourced against specific orders.
Temperature range
Up to 750℃