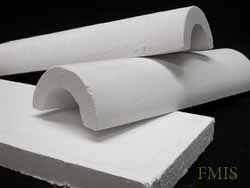 Expanded Perlite Insulation is suitable for insulating pipe, plant and equipment operating at temperatures up to 650°C.
Perlite Insulation products have the benefit of containing a rust inhibitor which is activated if the insulation comes into contact with moisture. The inhibitor neutralises any chlorides present, thereby greatly reducing, if not totally eliminating, corrossion under insulation (CUI).
Forms available
Expanded Perlite insulation is supplied as rigid boards and pre-formed pipe sections, supplied at a density of 220kg/M3. Perlite is sourced against specific orders.
Temperature range
Up to 650°C