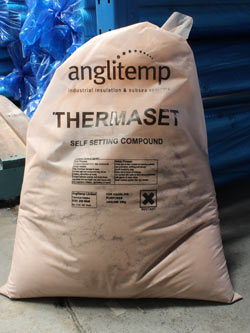 Finishing Cement - Thermaset
Thermaset is an insulation finishing cement applied over thermal insulation on complex surfaces where the application of metal cladding would be both difficult & expensive. The material is generally used as a coating over Rockwool insulation on steam turbines in the electricity generation industry.
In this application the Thermaset is generally coated with multiple coats of Fosters 30-36 reinforced with "No. 10 open weave glass cloth" (see also Mastics, Sealants & Adhesives). Based on a dried applied density of 1200kg/M3 the coverage per 25 bag is approximately 3.4M2 x 6mm thick. Temperature limits for continuous service: 200°C.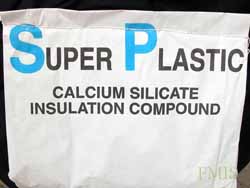 Insulation Compound - Super Plastic
Superplastic Insulating plaster (see also calcium silicate insulation earlier) is supplied in 12.7kg bags and is mixed with water to give a plastic insulation suitable for applying to complex surfaces or as a joint filler when using calcium silicate or perlite pipe sections or boards.

Based on a dried applied density of 220kg/M3 the coverage per 12.7kg bag is approximately 2.3M2 x 25mm thick.

Max service temperature for this product is 800°C.