High Temperature Glovebags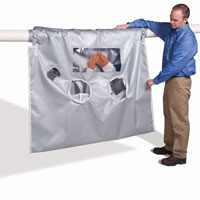 As many of you will know, my connection to Glovebags goes back to the days of Bestobell, when they entered an agreement with a UK company to manufacture bags here in Australia. This wasn't a terribly successful venture due to the local manufacturing costs, limited market and a high royalty cost per bag
In the days of Bell Thermalag, this arrangement was cancelled and we started importing Glovebags from Grayling of Georgia, USA. This is an arrangement that I have continued to this day. Grayling offer a wider range of bags and the arrangement has proven far more succesful than the earlier arrangements. The Avail Glovebags, and decons have been very well received.
Grayling over the years have extensively added to their product range to meet market requirements. The QT range has a deeper neck, allowing for easier closing of the bags. These have now been added to our stocks locally.
Grayling have now also made available Therm-Equip High Temperature Application Glovebags.
The original GloveBags were developed to allow the removal of asbestos or mmmf insulation for pipes and services without the need for major isolation of surrounding areas. The Therm-Equip bags allow the removal of asbestos or mmmf insulation form pipes and services without shutting the service down, subject to temperature limitation.
The bags are supplied to suit three service ranges : 300°F/148°C, 400°F/204°C & 700°F/370°C.
The Therm-Equip bags are manufactured and imported against specific, non-cancellable orders and, although supplied at a cost premium against conventional Glovebags, the ability to remove insulation from in service lines will often make the choice of a Therm-Equip bag very economical. A "no-brainer", in fact.
Full details of these bags including product brochure & usage instructions can be downloaded from our web site in PDF format here.